SHOW THE WORLD YOUR HARD WORK
A World Class Fitness Event
Premium Seats
Fitness Atlantic offers the Best of the Best in Diva Fitness Model, Male Fitness Model, Muscle Model, Figure, Bikini Diva, as they compete for the richest title in our sport earning "WBFF Pro Status".
Since 1999 the Fitness Atlantic provides all athletes a chance to shine! With a consistently sold-out audiences, national exposure and production standards designed to make every contestant feel like a star, the Fitness Atlantic is like no other event you will ever witness!
The World's Most Glamourous Fitness & Model Spectacular!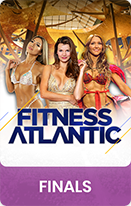 FRIDAY APRIL 12TH, 2024
6PM TRANSFORMATION SHOW
SATURDAY APRIL 13TH, 2024
10 AM MORNING SHOW
SATURDAY APRIL 13TH, 2024
6PM FINALS GALA