SHOW THE WORLD YOUR HARD WORK
✔ Franchise Operations and Brand Marketing Director
✔ Fitness Event Producer
✔ Best Selling Author
✔ Speaker
1991
World Gym
Brian Cannone began his full-time career in the fitness industry in 1991 and continues to operate health clubs today. His experience in this business has lead him to run many successful health clubs and his responsibilities include setting up new facilities, building and managing a staff, daily membership sales, personal training, and club marketing and promotion. He is also certified as a personal trainer, nutrition consultant, and group cycling instructor.
1992
Mr. and Ms. Connecticut
Brian went into promoting fitness events with enthusiasm and a very genuine love for fitness and the sport of physique. His approach and feelings about fitness and bodybuilding is that it is not only a sport but more of a way to motivate yourself to achieve results of losing body-fat and gaining lean muscle along with improving overall health. By entering a fitness modeling show you push yourself to be in your best possible shape of your life. Brian started competing in natural bodybuilding and became the promoter of the A.A.U. Mr and Ms Connecticut Bodybuilding event.
1998
Ultimate Fitness. This health club started with a trailer in the parking lot and an idea planned over 16 months. Brian was a major role in every decision made from designing the company logo, choosing equipment and layout, planning the group class schedule, hiring employees, choosing company uniforms, helping pick the colors of the facility, including in overseeing general contracting and construction, planning the marketing approach and following through with radio, print, and all local advertising.
1999
Brian Cannone created Fitness Atlantic in 1999 to provide all contestants a chance to shine! With a consistently sold-out audiences, national exposure and production standards designed to make every contestant feel like a star, the Fitness Atlantic is like no other event you will ever witness! This is certain to be the most personally rewarding event you can enter. Now you can Turn Professional, Win Awesome Prizes, and Get the Opportunities You Deserve.
One great thing about Fitness Atlantic is that "Everyone is a Winner!" In fact, it is more about the results you gain then the trophy you may take home with you. Fitness Atlantic has more of a pageant feel and draws attention of fitness models from the entire New England market and beyond.
2001
Brian Cannone published multiple online fitness products. The writer and publisher of Stage Ready Nutrition and Training, Maximum Muscle Mass, Muscle in a Month, No Discount Guide to Fitness Marketing, and FSTV Fitness Show Television.
Other client projects include Body Rock Project, Body-Construct, and Simple Bodybuilding Nutrition.
Brian started attending fitness mastermind groups with many of the top fitness marketing and lifestyle entrepreneurs.
2011
In 2011 and 2012, Brian Cannone hosted Fitness Trainer Tony Horton, creator of "P90X® Extreme Training System," lead an open workout at the Fitness Atlantic Event in Wallingford, Connecticut at the Dome at Oakdale Theatre.
2011
Published Writer for fitness publication Fit & Firm Magazine an online publication reaching over 300,000 monthly readers from 90 countries. Most of Brian's articles have career advice for future fitness models on ways to better themselves as business people or industry hot topics from Crossfit to Tough Mudder.
2011
Helped launch the world's first fitness radio on FTNS with the creation of the show The Body Shop. The Body Shop was one of the first shows created for the new internet radio station hosted online and streaming through computer, iPhone and Droid.
Bringing many of the largest fitness celebrities to life with guests including Tony Horton, Shaun T, Dolvett Quince of The Biggest Loser, Brett Hoebel of The Biggest Loser, Dr 90210, Flex Wheeler, Paul Dillett, Monica Brant, Lee Priest, Rick Valante of Body Shaping, Skip LaCour, Vince DelMonte, Dr Squat Fred Hatfield of ISSA, Rob Orlando of Crossfit, The Natural Randy Couture, and many other fitness stars.
2012
Fitness Business Expert Brian Cannone Hits Amazon Best Seller List With "Champions"
Brian Cannone, fitness business expert, recently hit two separate Amazon.com best-seller lists with the new book "Champions."
Brian Cannone recently joined with a select group of America's experts to co-write the book titled, Champions: Knockout Strategies For Health, Wealth and Success.
Champions was released on Thursday, January 26th, 2012 and features top advice from some of the most successful experts from around the world. These authors share business strategies and real-life solutions that guide the reader down the championship lane of success. Each author shares strategies that promote success in business and life. Brian Cannone contributed a chapter titled "Franchising Your Fitness Business."
On the day of release, Champions: Knockout Strategies For Health, Wealth and Success From Today's Leading Experts reached best-seller status in two Amazon.com categories – reaching as high as #2 in the Direct Marketing category. The book also reached best-seller status in the Entrepreneurship category.
Brian Cannone began his full-time career in the fitness industry in 1991 and continues to manage health clubs in Connecticut today. His experience in this business has lead him to run many successful health clubs and his responsibilities include setting up new facilities, building and managing a staff, daily membership sales, and club marketing and promotion. He has also lead many successful personal training companies on the same business methods.
Champions are ultimate winners. It is not a shared position. There are no two first places in a race. However, in business, we have a broader sense of championship. There are many races to run, many titles to earn, and many causes to champion. So there are many Champions.
Reaching the pinnacle and staying there in business is very difficult in a highly competitive setting. This rivalry drives competitors to perform their best to achieve their ultimate goals. In fact, it could readily be said that competition drives champions.
In this book, this group focuses on success in business and personal achievement. We also learn from them that while economic predominance is important, the journey to get there is equally so. They revel in becoming the best. They revel in achieving goals that no one has before.
After such a successful release, Brian Cannone will be recognized by The National Academy of Best-Selling Authors™, an organization that honors authors from many of the leading independent best-seller lists.
2013 – 2016
Brian Cannone hosted live fitness trainer Shaun T, creator of "INSANITY® Extreme Workout System," lead an open workout at the Fitness Atlantic Event in Wallingford, Connecticut in one huge workout. All events included question and answer sessions and photo opportunity with meet and greet.
Shaun T event grew to become known as ShaunTervention and drew over one thousand attendees.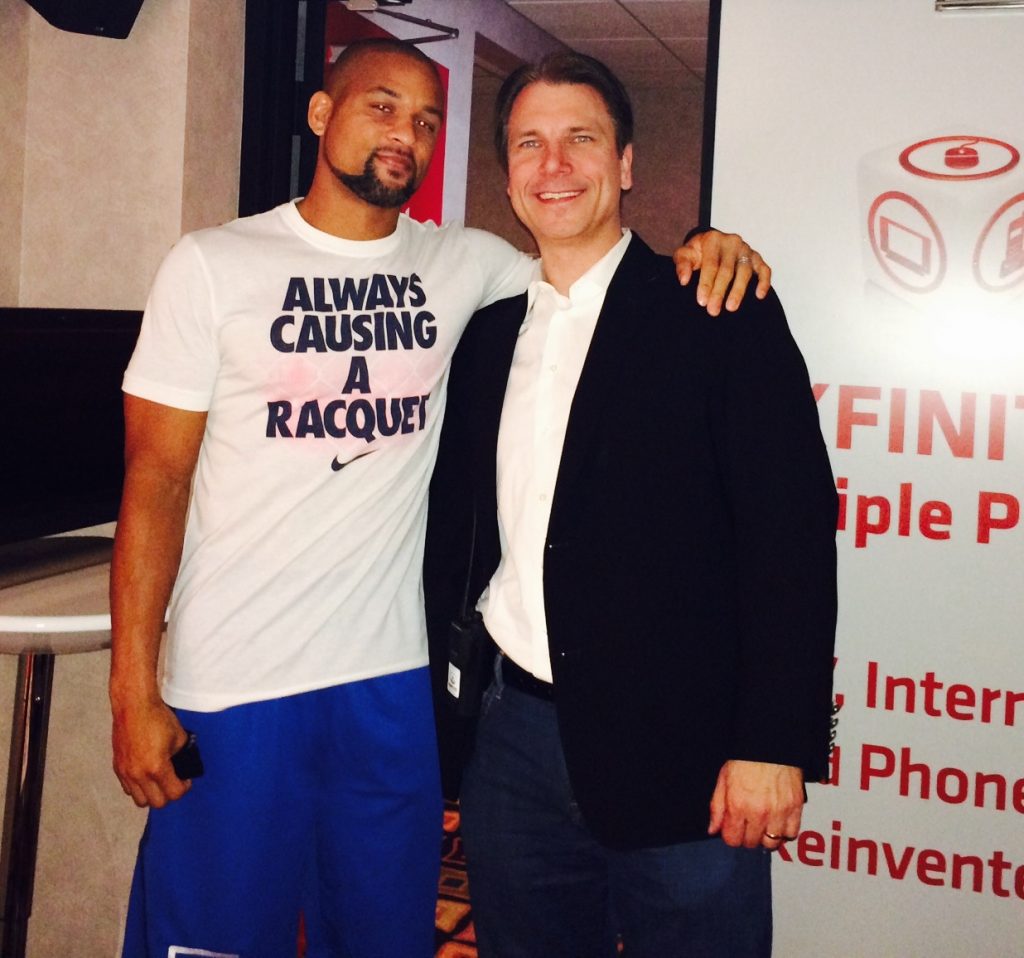 2013
Brian Cannone becomes Marketing Director, Oversee marketing and advertising for Planet Fitness Connecticut Franchises. The Largest Health Club Chain in the State of Connecticut and growing with over 200,000 members in Connecticut.
Main Tasks and Responsibilities Include: Manage and coordinate all marketing, advertising and promotion and activities, develop and implement marketing plans and projects for new and existing members, expand and develop marketing platforms, manage the productivity of the marketing plans and projects, develop pricing strategy, create marketing presentations, liaise with media and advertising and collaborate with the sales function in the clubs.
Organize and participate in marketing events, prepare online marketing campaigns, update company website and social media marketing. Handle all direct mail, radio and television advertising and budgeting.
2014
CONNECTICUT CONVENTION & SPORTS BUREAU HONORED BRIAN CANNONE WITH THE "BRING IT HOME AWARD"
HARTFORD, CONN. – The Connecticut Convention & Sports Bureau (CTCSB) recently presented "2014 Bring It Home Awards" to Brian Cannone for contributions to making the state a successful meetings, convention and major sports events venue. The presentations were made during the awards ceremony at the Connecticut Conference on Tourism (CCOT) at the Connecticut Convention Center.
"The Connecticut Convention & Sports Bureau greatly values the initiative and support of area business and organizational leaders who contact their colleagues and association members within their industries, societies and professions to promote Connecticut as a future meeting destination," explains Michael Van Parys, President of the Connecticut Convention & Sports Bureau. "We also honor Connecticut residents who produce their own events in our state and work with our Bureau to make their projects even more successful. Attendees to meetings, conventions and sports events in generate millions of dollars in revenue annually for Connecticut's local economy by staying at hotels, dining in restaurants, visiting leisure attractions, shopping at retail establishments," adds Van Parys. "And their meeting planners contract for a variety of local services necessary to running a successful event."
2014
Maxx Fitness Clubzz
Director of Operations, Investor and Franchisee
Work directly with the management team and contributing to the development and implementation of organizational strategies, policies and practices. Oversee all daily operations and communicate with all key players.
– Lead and drive weekly conference calls and monthly sales meetings.
– Oversee all club revenue streams in memberships, club offerings and services.
– Focus on exceptional customer service that drives sales
– Drive revenue in personal training and group training. Hold weekly conference calls with personal training managers and monthly meetings with entire personal training staff.
– Work directly with the marketing manager to improve sales conversions and handle all in-club marketing process.
– Travel to national fitness conventions and fitness industry trade shows speaking to future franchisees
– Contribute to new location openings including PR, equipment layout, signage, and staff training and
development.
– Oversee company website and social media marketing and brand development.
2015
Brian Cannone is invited to speak at FMI Guild Fitness MBA Summit
The FMI Guild specializes in business education for Fitness Lifestyle Entrepreneurs.
These Entrepreneurial Types Can Be:
Fitness, Sports, and Wellness Professionals, Athletes, Sports Models, Fitness and Health Advocates
Learn How To Grow Your Fitness Business in the Digital World!
SUMMIT LEARNING OBJECTIVES
BRANDING: Present a Clear Message to Boost Sales
BUSINESS AUTOMATION: Learn How to Free Up Your Time
ONLINE TRAFFIC: Get More People to See Your Website
MORE CLIENTS: Best Client Recruitment Strategies
PUBLIC RELATIONS: How to Receive and Leverage Mass Media Opportunities
PASSIVE INCOME: Create Products that make Money While you Sleep!
2016
Fitness Atlantic moves to Mohegan Sun Resort Casino!
Mohegan Sun is one of the largest casinos in the United States, with 364,000 square feet (33,800 square meters) of gambling space. It is located on 240 acres along the banks of the Thames River in Uncasville, Connecticut. It is in the foothills of southeastern Connecticut, where 60 percent of the state's tourism is concentrated. It features the Northeast's largest ballroom.