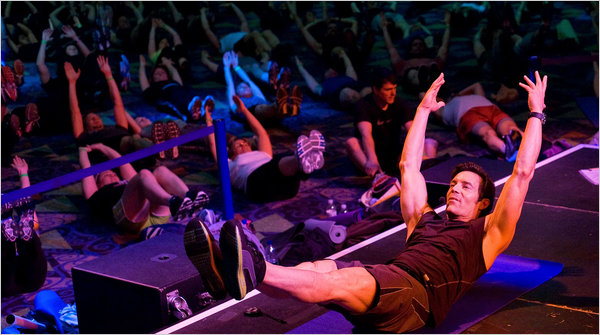 By ANDREW MARTIN
Published: May 28, 2011
IT'S 3 a.m., and Tony Horton is talking to you, couch potato.
"Get absolutely ripped in 90 days!"
Viewer, check out those abs, those pecs, those glutes.
"Guaranteed or your money back!"
This man is 52 years old — and probably buffer than you'll ever be.
"All for three easy payments of $39.95!"
On televisions across America, Tony Horton is selling a burning-sweat vision of physical fitness, and these days, a lot of people are buying. He is the pitchman and wise-cracking star of a brutal, make-it-stop workout called P90X, and he has won converts from Hollywood to Capitol Hill. The singer Sheryl Crow, the sportscaster Erin Andrews, the former NFL quarterback Kurt Warner, Representative Paul Ryan and a dozen or more of his Congressional colleagues, and the list goes on and on.
P90X fans swear by the workout, a mix of jumping, yoga, martial arts and strength training that, in fact, isn't all that revolutionary. But the secret of P90X's success is the marketing: Mr. Horton and his business partners say they have built a $400-million-a-year empire on what, to many, might seem like a foundation of schlock: TV infomercials.
But wait, there's more: through these infomercials, P90X has grown into a major player in exercise DVDs, one of the few growth spots in an otherwise shrinking DVD market. Beachbody, the Santa Monica company behind P90X, has expanded into workout DVDs and infomercials tailored to particular audiences. Its Body Gospel, for instance, is aimed at Christians. There is also Tony & the Folks for seniors and TurboFire for women. On top of that is a range of supplements and fitness gear.
Mr. Horton may be the face (and biceps) of P90X, but the man behind the curtain is Carl Daikeler, who has been plying the infomercial trade since the 1980s. His first production was for an industry that isn't exactly known for its quads: accounting. Later, he produced infomercials for all kinds of pitches, be they dating services or eight-minute abdominal workouts.
His breakout idea was to create a workout program that was so hard that he dared TV viewers to try it. In 2002, he and his business partner, Jon Congdon, took that pitch to Mr. Horton, who had starred in an exercise video called Power 90. The result, released in 2005, was P90X — X for "extreme."
The early P90X infomercials bombed. But that changed when, at Mr. Daikeler's urging, customers like "Dallas C." and "Kristy M." began sending in before-and-after pictures, now featured on the company's infomercials and Web site. More than three million copies have been sold since then, with sales increasing every year through 2010 (they are currently running even with last year), company officials said.
Now Mr. Daikeler, 47, wants to more than double his annual sales to $1 billion. To do so, he will have to move beyond the buff clientele who have embraced P90X to an even bigger market: Americans who are overweight or nowhere near as fit as they need to be to keep up with P90X.
That, of course, is a goal that has eluded fitness gurus — not to mention public health officials — for years.
"Whoever succeeds at making the living room an effective place to get fit is going to be a billionaire," Mr. Daikeler says.
INFOMERCIALS have been around almost as long as TV. But the genre really took off in the 1970s and '80s, with such wonders as the Ginsu, the kitchen knife that was shown samurai-ing its way through soda cans and leather shoes.
Health and fitness have long been goldmines in this field. Richard Simmons sweated to the oldies. Suzanne Somers extolled the virtues of the ThighMaster. And Jack LaLanne urged viewers to "unlock the power of fresh-squeezed juice" with the Power Juicer.
But P90X has achieved blockbuster status with a new approach. Its infomercials are shot in a more documentary style. They feature testimonials from P90X converts, interviews with Mr. Horton and scenes from the workouts. Old infomercial lines like "How much would you pay for all this?" are not part of the pitch.
Still, P90X is walking a well-trodden path. At-home workout videos took off in 1982, with Jane Fonda introducing aerobics to millions. In the years since, celebrities, models and personal trainers have crowded in. Claudia Schiffer has her "Perfectly Fit Buns." George Foreman wants you to "Walk It Off With George." Zsa Zsa Gabor tells her customers, "It's Simple, Darling."
Many of these workout fads faded fast. A few have captured the zeitgeist, like Billy Blanks's "Tae Bo" workout in 1999 and, more recently, videos by Jillian Michaels from "The Biggest Loser," whose "30-Day Shred" DVD is a bestseller.
Enlarge This Image
Andrew Sullivan for The New York Times
Mr. Horton, 52, depends on the success stories of his followers, like Jessica Figuerido of Uxbridge, Mass., who lost 50 pounds on the P90X program.
Multimedia
Tony Horton Demonstrates a Push-Up
Indeed, sales of fitness DVDs are growing by roughly 20 percent a year, even as overall DVD sales decline, according to the Nielsen Company. Billy Law, director of home entertainment measurement for Nielsen, attributes the increase to shows like "The Biggest Loser" and "Dancing With the Stars."
In 2010, videos from Ms. Michaels and "The Biggest Loser" accounted for seven of the 10 best-selling exercise videos, Mr. Law says. Nielsen tracks sales at most major retailers but doesn't capture sales of P90X, because P90X is sold only via the Beachbody Web site and over the phone.
Harold W. Kohl, a professor of epidemiology and kinesiology at the University of Texas in Austin, says such at-home programs probably help people who stick to them. But he suspects these DVDs are more valuable to the people who sell them.
"The ideal that is being conveyed in these tapes is not attainable for many, many people," Mr. Kohl says. "So it very quickly goes into the dustbin with the exercise equipment in the corner."
So does P90X really work? It's certainly a tough program. You're supposed to work out six days a week and follow a standard cut-the-carbs-and-junk diet, which may be harder than the workouts themselves.
Congressman Jeff Flake, Republican of Arizona, said that he had been doing P90X for several years with colleagues and that it was tough to cheat with many people around. "It works, I'll tell you that," he said, but added that he was not ready to display before-and-after photos.
The guiding principle is to mix up routines and "confuse" the muscles so as to avoid hitting a plateau. So some days are devoted to dumbbells or resistance bands, in addition to old-fashioned push-ups and pull-ups. Other days are reserved for yoga or cardiovascular workouts that involve a lot of jumping and squats.
But Robert Marting, a personal trainer who sells his own exercise videos, says that "muscle confusion" is a time-tested principle of bodybuilding, and that the idea has been around since the early days of Joe Weider, a creator of the Mr. Olympia contest. Beachbody "kindly borrowed the principle and just retermed it as a training secret," he says.
True enough, Mr. Daikeler says.
"Trainers love to give negative reviews of P90X, saying it's not that special," he said. "They are right. It's not that special."
Nonetheless, Mr. Daikeler says Beachbody has managed to package the concept into an entertaining and effective plan that leads to at-home success in — you guessed it — 90 days.
Says Mr. Horton: "I never said I reinvented the wheel. I just made the wheel faster, better."
TONY HORTON, with nary an ounce of fat on him, sits on a leather couch in his Spanish-style house in Santa Monica. He is wearing a pair of shorts, slip-on Chuck Taylors and a U.S. Navy golf shirt that shows off the veins on his well-pumped arms.
The man sure looks fit. He can do 100 push-ups and 35 pull-ups without stopping. He can climb a 25-foot rope hand over hand — upside down.
"If I don't look a certain way, I'm just another salesman," Mr. Horton says.
How he got fit and then rich is a classic Charles Atlas story. Growing up in Trumbull, Conn., he was, by his own account, a "quintessential 98-pound weakling." He also had a speech impediment.
It wasn't until he got to the University of Rhode Island that Mr. Horton discovered fitness. He took a weightlifting class, thinking it was an easy A. He ended up loving it and getting "crazy fit."
"It was a brand new feeling," Mr. Horton recalls. "It changed me mentally and emotionally."
Then one summer he and a friend set out to drive across the country. His $400 got him as far as Colorado Springs. So he dusted off an R-rated pantomime routine that he had perfected in college and eventually made enough money to reach California.
Multimedia
Tony Horton Demonstrates a Push-Up
Mr. Horton ended up staying in California, waiting tables, painting houses and taking a job as a gofer at 20th Century Fox. He joined a gym to meet women. When a Fox executive asked him for training tips, Mr. Horton became his personal trainer. He worked out of his garage and charged $20 a lesson.
One client led to another. Eventually Mr. Horton was recommended to Tom Petty, who wanted to get in shape for a concert tour. It wasn't long before he was making a good living training the likes of Billy Idol and Annie Lennox.
"I'm sitting there with the lead singer of the Eurythmics, eating fruit," Mr. Horton recalls. "It was pretty cool."
Ms. Lennox could not be reached.
In his free time, Mr. Horton got bit parts in a few movies, tried stand-up comedy and became a pitchman for NordicTrack. He met Mr. Daikeler through a mutual friend and ended up acting in a play, "Pizza Man," with Mr. Daikeler's first wife.
Mr. Daikeler's first video starring Mr. Horton, in 1999, was called "Great Body Guaranteed." Mr. Horton was paid $2,000. The video did well enough that a group of investors put up money for another video, "Power 90," an unexpected success and the precursor to P90X.
These days, Mr. Horton spends his time promoting his videos — he recently appeared on the "Today" show and QVC — and conducting workouts for fans, including members of Congress and American soldiers overseas.
With his lawyer and assistants, Mr. Horton also is trying to figure out how to extend his personal brand. He has a new book, "Bring It!: The Revolutionary Fitness Plan for All Levels That Burns Fat, Builds Muscle, and Shreds Inches." He is discussing other business ventures, including a line of sunglasses and workout clothes, a reality TV show and a syndicated radio show.
Mr. Horton, by all accounts, practices what he preaches. He and his girlfriend, Shawna Brannon, have a home with Hollywood views, where Mr. Horton works out in a tricked-out gym. He rarely eats meat or drinks liquor or coffee.
"When I stop eating broccoli, I don't get headaches," he said of his aversion to coffee. "If I'm going to cheat, it's going to be chocolate."
AT Beachbody's sleek offices on the edge of Santa Monica, Mr. Daikeler is also trying to figure out ways to extend his company's brand. Beachbody has continued to produce videos aimed at the hard-body crowd. A current hit is "Insanity." A follow-up to P90X will be released soon. He is also looking to extend Beachbody's name to beauty and health products, though he insists he will not overreach.
"We are not going to do the Beachbody deep fryer or car wax," Mr. Daikeler says.
But finding a way to expand his audience, particularly those not prone to exercise, has proved more challenging.
Mr. Daikeler recently convened a meeting at Beachbody to discuss ways to improve sales for Body Gospel, the workout aimed at Christians. The $80 price tag seemed high, and the diet was proving to be a challenge for budget-conscious consumers.
Another problem: conservative Christians were reluctant to provide before-and-after photos, an important ingredient in the Beachbody formula. The pictures typically feature men with their shirts off and women in bathing suits or workout clothes.
The group batted around ideas for how to lower the price, by offering fewer DVDs, perhaps, or taking out the resistance bands that are normally included. As for the problem of getting Body Gospel's customers to provide testimonials, Beachbody's employees suggested allowing written testimonials or "lifestyle photos" with shirts on.
Mr. Daikeler says that if customers aren't willing to peel off their shirts, his product simply isn't compelling enough.
"The needle moves on undeniable proof," he says. "I want to know: did their body change? That's what we have to solve."