Wendi West
Fitness has always been a major part of my life. Dancing was and is still my primary passion. Starting at the age of 4, I took every type of dance lesson: jazz, tap, ballet, pointe, acrobat, and tumbling. I credit dance for all my coordination and athletic talents. After several years of dance, I developed enough talent that allowed me to perform professionally. After high school, I auditioned for Opryland Showpark in Nashville, TN. I danced at Opryland for the summer of 1989 after my freshmen year of college (age 18). The next two summers I was offered a dance position for a dance company who performed on Norwegian Cruise Lines. I got to travel the Caribbean visiting islands such as: St. Thomas, St. Martin, Martinique, Barbados, Antigua, Puerto Rico, and the Bahamas. Most college students work "real" jobs that pertained to their fields where I followed my heart and continued to dance whenever I could. If studying for analytical chemistry and embryology tests weren't enough, I also participated in the Women's Track & Field team while attending college. I was a hurdle and high jump Western Mass champion in high school. My college coach saw more potential and asked me to compete in the pentathlon /heptathlon. I ended up enjoying the challenges of the running, jumping, and throwing events. It was then that I started weight training. Weight training provided me with the strength and endurance to excel as an East Coast collegiate track athlete. I was selected as Athlete of the Year for my freshmen and sophomore years. Once I graduated from Springfield College (Springfield, MA), I began my professional career as a chemist. Working in a lab is mentally and financially satisfying but I still had the passion to perform.

I began teaching aerobics at a local club in Chicopee, MA. The manager convinced me that I had everything the fitness competitions were looking for. I began watching all the shows on TV and decided to enter my first competition in 1997 in New Haven, CT. I came in first place wearing a jazzed up pair of spandex and boob top as a costume and a Venus flowered bathing suit (with no sparkles). Boy did I have a lot to learn! I went to the 1997 FAP Nationals and had an awakening experience. I had never been in a place where there was over a hundred beautiful and talented women. After returning to my humble town of Chicopee, I continued to train and compete in the local shows. I continued to win local shows, which provided me with free airfare to the Nationals. I placed 32nd at the 1998 FAP Nationals. I attended the ESPN Series competition in 1999 and placed first. That was my first TV exposure! I was so happy to share the experience with all my friends, family and those people that couldn't make it to the shows. I was so glad that I was going to be on ESPN until I found out that I scored last place in the physique round. Luckily my fitness routine received a very high score (that's all that matters). I was ready to hang up my shoes at that point! I injured my shoulder later that year and wasn't able to compete at the 1999 Nationals.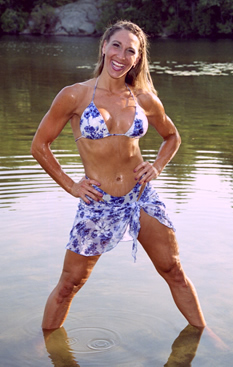 I soon figured that I needed some professional help (not mentally) seeing I was doing all my costumes, bating suits, and choreography myself. I contacted Cathy Savage and began a new stepping-stone. I have always been told that my name has a "star" ring to it so I thought I'd capitalize on it. I competed with a Wendi "Wild Wild West" theme in 2001. I knew it was original and would hopefully catch the ears of the judges. I have been known as Wild West ever since. Seeing that my physique is more on the muscular side, Cathy suggested that I compete in the NPC organization because FAP looks for softer, more feminine physiques. I ended up winning my first 2 NPC shows and placed 3rd at the Team Universe competition missing my Pro card by one place.
I came to a cross road where I had to select which organization I wanted to compete in. FAP doesn't mind if you compete in other organizations but NPC does. After deciding that a more feminine, less-dieted lifestyle is what I wanted in the long run, I chose to compete in the FAP. I won the Fitness Atlantic Pageant in April 2002 with a Wonder Woman theme. I selected the Wonder Woman theme because I am sometimes referred to as Wonder Woman because I find the time to compete, upkeep my own home, and work a full-time job. It also had a slight patriotic theme, which reflected the September 11th tragedy. I didn't end up competing at the 2001 FAP Nationals because I didn't feel comfortable flying but I'm heading there this year in hopes to make the top 20.
Unfortunately not competing at a 2000 & 2001 National level may have hurt me because I missed out on obtaining exposure. The more exposure you get, the better your placing will be. I attended the 2002 Fitness Universe Pageant for the first time. Although I didn't place as well as I wanted to and I felt like I was in the best shape of my career, I still had a lot of fun getting to know the other women better.
One of the biggest challenges of competing is the financial burden (competition suits, costumes, shoes, choreography, music, entry fees, and travel expenses). Bathing suits and costumes can cost up to $150-200. It is very common that competitors pick a new theme and costume every year. Fitness competitions are an expensive hobby. I recently obtained a sponsorship from a local supplement company (The Supplement Zone, Springfield, MA). They provide me with free supplements and help with some of the travel expenses. I am grateful that they selected me to sponsor. Although they don't pay for all expenses, it definitely helps tremendously. I don't take many supplements. I drink a protein shake every morning (Cappuccino Ice by Myoplex), and I take glutamine, Methoxyflavone, and Hydroxycuts (Hydroxycuts only 6 weeks before competing). I believe in maintaining a healthy lifestyle all year round by consuming natural foods in moderation. I indulge on frozen yogurt and an occasional pizza when not competing.
I have a lot of people to thank for my successes. My fiancé Brian, friends and family provide their support all year-round. They try to attend every show especially the Fitness Atlantic Pageant. This show has become the largest and most competitive show in the New England area. It was an honor winning this show this year. Cathy Savage and her comrade have guided me over the past 2 years giving me their constant encouragement. One of the best things I did to improve myself was to attend fitness camps held by Mia and Ritch Finnegan. It is great having a first-hand source so close by and willing to help others reach their goals. I learned so much on make-up, tanning products, competition attitude, and physique stature. I wish I attended a fitness camp early in my career. I recommend them to every new comer. Mia is one of the best fitness role models. She is a sincere, knowledgeable, talented, and ambitious woman. How can you not respect and look up to someone with those qualities? I don't have many people who "inspire" me. I think inspiration comes from within yourself and the loved ones around you fuel that fire.
My future goals are to place high in the top 20 at the 2002 FAP Nationals. In the future, I would like to help upcoming fitness competitors in the Western Mass area reach their competition goals. I would also like to compete in the obstacle competitions like Tri-Fitness or Ms. Galaxy where judging is not subjective. Your "time" is your score. It doesn't matter what your body fat percentage is or if you have fake eyelashes on.
Related Article:
Wendi West at the 2002 Atlantic Championship:
Return to the Fitness Competitor Section