Dr. Rick Silverman – Muscle over Myth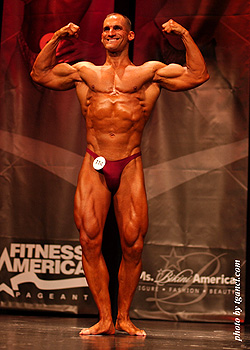 Dr. Rick Silverman received his A.B. in German from Dartmouth College in 1981 and his M.D. from the Pennsylvania State University in 1985. He completed training in General Surgery at the Hershey Medical Center of the Pennsylvania State University at the Maine Medical Center in Portland, Maine, finishing in 1990. He trained with Plastic Surgery at the University of Massachusetts Center in Worcester, Massachusetts, completing his program in 1992, followed by traveling fellowship in Microvascular Surgery at the Chang Gung Memorial Hospital in Taipei, Taiwan, and at the Royal Melbourne Hospital in Melbourne, Australia. He has been on staff at the University of Massachusetts Medical Center since July 1993. He obtained certification by the American Board of Plastic Surgery in November of 1995. His practice was relocated to the St. Elizabeth's medical Center in Brighton, Massachusetts, with offices in Newton and Brighton in September of 2000.

Dr. Silverman's practice covers the broad range of Plastic and Reconstructive Surgery, with some focus on diseases of the breast in both men and women and body contouring. He remains affiliated with the University of Massachusetts Medical Center at the Hahnemann Campus. His focus in aesthetic surgery is in the fitness-oriented individuals and bodybuilders, where he aims to provide surgical care with a minimal interruption in their training program. He has written several recent articles on the on the treatment of gynecomastia in bodybuilders, published in both peer reviewed journals as well as in poplar literature, including Muscle & Fitness Magazine and natural Bodybuilding and Fitness Magazine. As a result of his exposure to the complications of drug use in athletes, Dr. Silverman has developed a program and is available to speak with students and other groups regarding steroids and other drug use in sports.

In addition to his clinical responsibilities in Worcester, Dr. Silverman is active in leading groups of surgeons and medical personnel to Ecuador to provide surgical care to the undeserved in this developing country, under the auspices of C.H.A.N.G.E., based in Worcester, and FUNDASE, based in Ecuador. The majority of care has focused on repair of congenital anomalies of the face and hand, especially cleft lip and palate, along with secondary burn reconstruction and treatment of scars.

Away from work, Dr. Silverman is an athlete, involved in rowing, sailing, and competitive bodybuilding, holding several titles. Additionally, he is a poet, singer, songwriter, and pianist, and performs in these areas, as well as having a number of published poems. He is currently co-secretary of the Dartmouth Class of 1981.

In 1977, as a freshman in college, Rick Silverman could have easily been mistaken for something left by the roadside by careless travelers. At 6'-1" he weighed all of 135 pounds. Dr. Silverman started lifting weights when he started medical school; he inched his way up from around 155 pounds, which he weighed when he graduated college to about 170 pounds, when he finished Plastic Surgery residency. His problem to gaining muscle at this time was his approach to working out, he was a cardio machine, running long distances, rowing, taking long bike rides, swimming 200 meters just for fun. He lifted weights as an adjunct to all of these activities. He also didn't sleep or eat enough. Finally, when he was doing his fellowship in Australia, he gained 5 pounds, probably due to the amount of fine Australian beer that he consumed? Those were 5 good pounds, and he gained them because he needed any extra calories.

Upon returning to the U.S. and starting his practice he resolved to consume more calories, and started by adding weight gainer shakes to his diet. He eventually settled on Muscle Maxx and Pro Maxx by SportPharma and now he doesn't leave home without them. He also had back surgery for a herniated disc, and though he continued to running for nearly a year after surgery he eventually decided to stop because of the persistent aching he had in his left leg. And that was all it took, he didn't think he would ever see 200 pounds on a scale, but he did briefly pop the 200 pound mark to gain over 25 pounds that year with no change in his waist size. Not bad for 35 years old, he dropped a few pounds over that summer but gained them back through the fall and made it to a solid 205 by January of 1996, when he decided to compete, mostly due to the encouragement of his friends.

After a little over three years into his bodybuilding career he had gained a maximum of 60 pounds without the use of anabolic steroids. His competition weight remains around 195 to 200pounds, but his physique's overall quality seems to improve with time.

If you want to know even more about Dr. Rick Silverman's history, his training, and some of his thoughts on bodybuilding – and life, in general, then call SportPharma at 1-(800)-654-4246 and get a copy of his book, "Muscle over Myth" – Eliminate the guesswork. Discover the secrets of drug-free bodybuilding and achieve your ultimate physique.