Mendez Is Cosmo's Man
Having Cosmopolitan magazine name you Connecticut's "hottest hunk" could be a hard title for a lot of men to handle, but Morris Mendez of Bloomfield looks as though he can easily shoulder the responsibility.

Mendez, 33, will be featured along with the hottest and hunkiest bachelors from the other 49 states in Cosmo's November issue, on stands Tuesday. This is the sizzling contest's fourth year, and the entries come from readers' nominations. Early next week, Mendez will join fellow hunks on a publicity blitz in Manhattan. Mendez hopes the attention will lead him to modeling jobs, especially in music videos.

It was a female friend who goes to the same gym as Mendez - BodyFit in Manchester - who sent in his name and photograph.

Not the first time that Mendez has been noticed for his build - he won a Musclemania contest in New Haven, an ESPN-sponsored bodybuilding contest. He's headed for Musclemania World competition Nov. 14 in Redondo Beach, Calif.

Ah, but Mendez is so much more than pecs, deltoids, and abs, and that's a good thing because Cosmo wants so much more than a pretty pec.

"We want wonderful guys with varied interests," said Susan Portnoy, Cosmopolitan spokesperson. "And it seems he likes women and has respect for them."

Mendez, who was born in England and has traveled the world to participate in contests, does like women - he has had girlfriends in Turkey, England, France and the United States - but not all at the same time. He said he is a one-woman man. That's why when he heard that Cosmo referred to him in the story as a "Casanova," he said: "Oh, man, I don't want people to think I'm that!"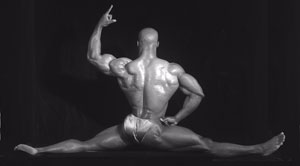 He also likes children, and is at Capital Community College getting certified to teach elementary education. At the same time, he's doing social work at a local hospital.
He graduated from Hartford Public High School, Manchester Community College, then got an art degree at Central Connecticut State University. His favorite art media is clay, he said, which could explain why Mendez is so well sculpted.
"Schwarzenegger wishes he had biceps like that," Portnoy said.
So which muscle is Mendez most proud of?
That was easy.
"It's my heart."
Related Articles
Morris Mendez - Renaissance Man
Fun In China
The Morris Mendez Chronicles

Click image for a larger pic.
Morris Mendez 2002 Video:
Return to the Natural Male Bodybuilders Section