Mike D'Angelo the BodyEvolver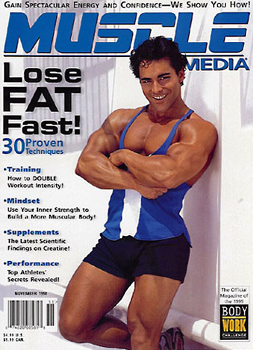 Pure energy and absolute in-your-face excitement is transmitted the moment this natural champion electrifies the stage!

Introduced to the Musclemania Atlantic audience as our inaugural guest poser in the 1999 event, then as the Event Host as Master of Ceremonies in 2000 and 2001 Mike brought his fun personality to life and had the audience cheering!

As a lifetime natural bodybuilder Mike has graced the covers of fitness magazines and gained tremendous exposure as a EAS fitness model. From area shows held Boston to huge shows in California and even Italy Mike as competed and won his divisions and overall titles. Then in international Musclemania contests Mike qualified for the first Professional Musclemania events and competed in Musclemania World and Superbody World.

Graduating from Boston University with a Bachelors Degree in Exercise Science and Exercise Physiology also holding certification through American College of Sports Medicine. Mike owns a full health facility in Boston's Back Bay and a online personal training web-site both named BodyEvolver.

Mike lives outside of Boston and trains hundreds of clients online and one on one in his health club. Mike is 33 years old, he was married in 2001. Mike's first child, a boy named Joshua, was born last May and therefore Mike could not make it back to host Musclemania Atlantic in the year 2002.

Mike had gained a popularity dreamed of by many natural bodybuilders with covers and articles in Muscle Media and Muscular Development with his awesome personality and love of the sport he is always a pleasure to be around. As a full-time personal trainer, health club owner, and web-site developer along with family responsibilities we hope Mike can find the time to train for his next competitive season.

Click each image above for a larger pic.


Click Here To See A Photo Gallery of Mike D'Angelo