John Puskarich – "Get Fit with FOX"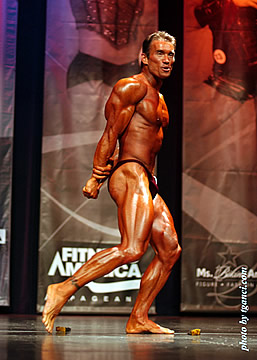 FOX 45 Morning News fitness expert John Puskarich of Baltimore, Maryland is helping FOX 45 viewers get fit.

John Puskarich is a very successful Multi-Title Drug Free Bodybuilder and Personal Trainer.

John's unique perspective on life advances the idea that helping others achieve success ultimately enriches his own life. His training methods incorporate a holistic approach towards strengthening the mind, body, and spirit with an extensive knowledge of fitness and bodybuilding and an unbelievable passion for improving the human form.

Television show topics include healthy exercise tips and healthy cooking tips and recipes.

15 Tips for Excellent Health

1. Lift weights minimum 3 times a week. Strive for improvement in added weight or increase in repetitions at every set until the desired goal has been reached. (Muscle is your metabolism – so, this is where the focus should be.)

2. Use a variety of exercise forms. Bike rides, walk stairs, rollerblade, hike, play sports, walk.

3. When weight training do not worry about what others are doing and how they are doing it. Train with good form and a weight you can handle or a pace that pushes but not overwhelms you. (The turtle always wins this race.)

4. Drink more water! At least ½ ounce for every one pound of bodyweight.

5. Try to consume .75 to 1 gram of protein for every pound of muscle.

6. Much better to eat 4-6 smaller meals than 2-3 large ones. This keeps your blood sugar levels stable and your body out of fat storage mode.

7. Take a multivitamin.

8. Keep a journal of your goals and progress.

9. Find a partner to share on your fitness journey.

10. Keep motivated with pictures of physiques that are similar to yours nearby that inspire you.

11. Invest in your health and fitness. If you have been considering purchasing a treadmill and your finances allow buy it! And use it!

12. Limit your time in front of the television and stay active!

13. Once or twice a week treat yourself to your favorite foods that you have cut out of your healthy living. Here and there won't hurt you much.

14. Even for a brief moment if possible, take time alone to get to know yourself and God. Growth must occur inside to make lasting gains and live a balanced life.

15. It is never too late to begin! Nothing comes easy and if it sounds too good to be true, it probably is. Make this a lifestyle. If you go on a "diet" and lose weight, the weight will come back when you go off the diet!

Turkey Meatballs and Tomato Sauce

Ingredients

¨ 1 pound lean ground turkey

¨ 2 tablespoons grated parmesan cheese

¨ 1/3 cup chopped onion

¨ ½ cup oatmeal

¨ ¼ cup finely chopped parsley

¨ ¼ cup egg beaters

¨ 2 cloves garlic

¨ freshly grated pepper, 3-4 twists of the mill

¨ pinch of nutmeg, if desired

Directions

Preheat oven to 400 degrees

Mix all ingredients together in a large bowl

Gently shape mixture into round balls that are one inch in diameter

Place on a rack set in a pan such as a broiler pan or roasting pan

Bake at 400 degrees for 12 minutes. Turn them gently to brown evenly on all sides

When brown, remove from the oven. Place the meatballs into the tomato sauce to finish cooking.

(See recipe for tomato sauce below)

Tomato Sauce

Ingredients

¨ 2 pounds of fresh ripe plum tomatoes that have been washed and cut in half lengthwise.

¨ 2/3 Cup Chopped Celery

¨ 2/3 Cup Chopped Carrot

¨ 2/3 Cup Chopped Onion

¨ 1 teaspoon salt

¨ ¼ teaspoon sugar (if desired)

¨ 2 Tablespoons Olive Oil

¨ 2 Tablespoons of Chopped Fresh Basil

Directions

Cook the tomatoes in a saucepan on medium heat for 10 minutes.

Then add the celery, carrot, onion, and salt, (sugar if desired), and puree through a food mill that is over a bowl and then return the mixture to the pan.

Cook at a simmer, uncovered, for 15 minutes. If necessary, add more olive oil and or salt to taste.

Stir in basil. Simmer a few minutes longer.

Note: You may substitute 2 cups of canned tomatoes and their juice if fresh tomatoes are not available. If you use canned tomatoes, you can skip the first step as they have already been simmered.

Serving Suggestions:

Add turkey meatballs and vegetable of your choice. Serve immediately.