Hugh Ross Ė Physical Motivation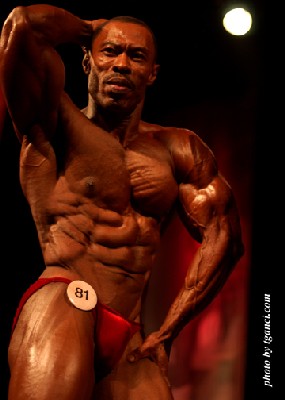 It is hard to believe that Hugh Rossís first bodybuilding competition was in 2002 at the Musclemania Atlantic. Stepping on stage for the first time Hugh entered the Menís Novice division and easily took the overall title. He also won the Menís Master title in the over 40 class.
Hugh returned to the Musclemania Atlantic stage in 2003 and entered the Menís Open division as a Light-Heavyweight and won his class then in the judging for the Overall Title placed second to winner Morris Mendez. Hugh also gained the Menís Masters over 40 title for a second year in a row. He went on to compete a week later in the NPC New England Bodybuilding Championships in Massachusetts and took the Overall in the Menís Masters and 2nd in the Open Light Heavy.
Hugh Arlington Ross was born June 26, 1959 in Guyana. He served as an officer in the Guyana Defense Force from 1980 to 1989 when he resigned as a Captain. Some of his appointments were as a Platoon Commander, Ground Forces Group Instructor, Training Corps OC Recruit Division, Training Corps OC Tacama Battle School, Training Corps Adjutant, Training Corps OC 31 Airborne Coy, Special Force Battalion OC School of Special Warfare, Special Forces Bn OC Jungle Warfare Division and Special Forces Battalion.
Hughís specialties are paratrooping, jungle warfare, amphibious operations, close quarter combat, and skills at arms. His personal interests are in the martial arts with a third degree black belt in Shotokan and second degree in Tae-kwan-do. His hobbies include motor racing, shooting, parachuting, traveling, and spending time with his family. Hugh enjoys reading and his favorite authors are Niccolo Machiavelli, Sun Tzu (The Art of War), and Friedrich Nietzshe (The Prince). Hugh also recently received his personal training certification from the American Council on Exercise and trains clients when time permits.
Hugh resides in Brooklyn, New York were he works in Law Enforcement. His wife Allison is a MSW Research Coordinator and they have three children Odelle, who is in the US Army and currently deployed to Kuwait, Darrel, who is attending high school, and Damali, who is a junior in high school and also a gymnast.
At 5 feet 10 Ĺ inches tall, Hugh has an off-season weight of 212 pounds and competes at a weight of 193. Hugh is former power lifting champion and has many titles under his belt. As a power lifter it is no wonder the thick and mature muscle density Hugh displays as a bodybuilder.
Hughís first powerlifting competition was the New York Bench Press Championships in August of 1994 and he took first place in the event. The second contest he entered was in 1995 the Connecticut State Championships with a partially torn right hamstring and ended up with 4th place. Next was on to the Battle of Saratoga in Upstate New York for a 1st place finish in the Open, Sub-masters, and Lifetime.
In 1996 he returned to the Connecticut State Championships for a 2nd place finish. In August of 1996 he moved to the big time show and traveled to Hamilton, Canada for the Pan American Championships were he placed 3rd. In November of 1996 he entered Connecticutís Push and Pull Classic and placed 1st in the deadlift and 2nd in the Bench Press.
Hugh Ross - Access Granted

NEW DVD! We are very happy to be able to offer a high-quality DVD of Hugh as he passes on his training and nutrition advice for others to achieve outstanding results! More info.

Only $19.95

In October 1997 he took 1st in the 220lbs Open and Sub-Masters and also Best Lifter in the New Jersey State Championships were he suffered a slight tear in his right trapezious during his final attempt in the deadlift.

April 1998 back again to the Connecticut State Championships where he won this time! 1st Place in the 220lbs Open Class. Then again to the New Jersey State Championships in October and got 1st Place in both the 220lbs Open and Sub-Masters along with Best Lifterís Award. Canít stop there, back again to the Connecticut Push and Pull event for a first in both the bench press and deadlift 220lb class.





In 1999 he did not compete in powerlifting all year due to an injury sustained in training while in Guyana. He pinched a nerve between his 6th and 7th vertebrae.

March 2000, Tri-State Championships 1st in both the 220lbs Open and Master Division. His first event as a Master. Then to his final power lifting event the United States Powerlifting Federationís Sub-Masters and Masters Powerlifting Nationals held in Virginia in April of 2000 to take 1st in the 200lbs Masters as well as the best Lifterís Award.

Hughís best poundage was a squat of 650lbs, Bench Press of 430lbs, and a deadlift of 688lbs.

Hugh definitely has what it takes with his great discipline and motivation and determination to move right up in the bodybuilding ranks, he has it all. The improvements he made in his physique in just one year from 2002 to 2003 are just amazing. He is a great role model and it shows! As he was training for the 2003 Musclemania Atlantic he became the inspiration to a group of new bodybuilders in New York. It is no wonder that people look up to Hugh all you have to do is look at his physique, but that is nothing in comparison to when you actually get to speak to him and you get to really know the type of person he is, a true gentleman. Yes, Hugh is a true bodybuilding role model.

Click image for a larger pic.

Hugh Ross 2003 Video

Hugh Ross at the 2006 Fitness Atlantic

Hugh Ross DVD - Access Granted

Return to the Male Bodybuilders Section