Dianne Loftis: Breaking the Myth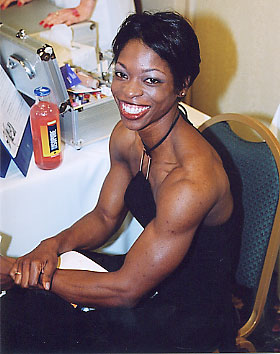 Dianne Loftis has added the Musclemania Atlantic to her long list of impressive wins. She took the 2003 Women's Overall Bodybuilding Champion title on April 26th in New Haven, Connecticut. "I felt excited to know that the time and effort that I put into preparing for the show paid off", she stated after the victory.

Loftis, who competes at 108 pounds, doesn't waste time when asked about her goals. She replies without hesitation, "To take my body to the next level and to break the myth about women and bodybuilding. Most women feel that training required to be a serious bodybuilder results in a more masculine physique. I want them to know that even if they lift heavy weights, they can still retain their feminine appearance."

Training for only three years, Loftis, 28, appears to have a bright future on her horizon. Loftis won the overall women's title at the NGA Annapolis, the NPC Body Rock, and the Musclemania Nation's Capitol. Still. Loftis approaches her victories as part of a well organized and planned strategy. "I took up bodybuilding for several reason," she offered. "The primary reason was to use the activity as a stress reliever. Another reason was because I enjoy working out. Also, people who know me have always suggested that I try to compete. After I got my BA Degree in Computer Science I had more time to devote to what I thought it would take to bring my body to competition level."

We asked Loftis about the natural scene in her area. She said, " As a new competitor I've noticed that the few shows that are held in my area, half of the shows are considered to be natural while the others are not."

Diane Loftis is on an incredible and impressive roll. She has momentum going her way. Is there anyone out there who can beat her, especially if she decides to enter the Musclemania World Championships? That is now the question being asked.

"I intend to compete in many natural bodybuilding shows as long as I am capable of doing so," she states with a determined and confident smile.