Tony Truino: "TAKING THE NEXT STEP"
I was a regular lifter at health clubs for many years, my workouts were on the average of six days per week. I ate a decent diet but wasn't too careful. I ate whatever I wanted and especially on the weekends when going out with friends. I grew up in Hartford, Connecticut area and went to a Powerhouse Gym where I did mainly strength lifting to put on muscle since I was a smaller guy. I was getting pretty big for my size but I carried a lot of body fat, which I didn't realize until I started getting ready for a bodybuilding show.

I decided I wanted to compete in 2004. I work as a Financial Planner for the Barnum Financial group, a MetLife Company, where I help people invest their money and plan their financial futures. Being a financial planner was helpful to my bodybuilding training and diet where now I was working with calories and adjusting my schedule to eat my meals between clients. Instead of counting money I was now working with a budget of calories ingested and calories expended. I decided to compete in the Musclemania Atlantic event held in New Haven and with help from a personal trainer on my diet and training I decided to compete in the Novice Division that April.

When I started I weighed 190lbs at 17% bodyfat and for this contest I went into the contest at 159lbs at 7% bodyfat, I felt drained by doing so much cardio to get my weight down and since I had to loose so much body fat in twelve weeks. I felt I lost some of my hard worked muscle in order to get lean enough. I didn't make the top five in my class that show but I continued to stay on my diet and to fill out and also was able to bring my body fat levels down even more my competing again that year in the Musclemania New England in Boston, Massachusetts where I weighed 163lbs at 6% bodyfat. I did the Novice Division in Boston but also entered the lightweight class and since there was only one other contestant that happened to be in my lightweight division in the open I won my class!

I still continued my diet and training until the April 24th Musclemania Atlantic once again where this time I did even better with my condition. I would have like to enter the Novice division again since I still consider myself a beginner but I knew since I won my class in the Boston show I had to go into the Open Men's division and this was going to be a tough show.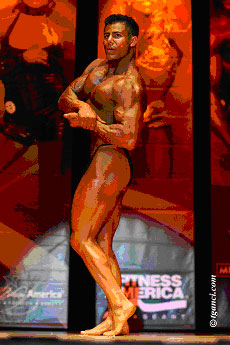 I thought that I was really ready and prepared this time around to finish in the top five! I trained hard for a whole year, followed a strict diet, and mentally felt prepared. But as my trainer often tells me "You never know who is going to show up!" and boy is that the truth. I stepped on the scale at the weigh in and to my surprise I was 5 pounds heavier than I was hoping to be so I was now in the welterweight division instead of the lightweight division. But I was in the greatest shape of my life, and I figured that no matter what division I was in I has a legitimate chance to place top 5. Well, I didn't place top 5 I placed 7th out 8 guys. During the actual pre-judging the head judge commented that this was the toughest class, Men's Open Welterweight. He was definitely right!
This show (Musclemania 2004) made me realize that when you think that you are ready you can always be better, and if you think that you can be better, you never know you just may win. It really opened my eyes to the fact that maybe I needed to change my training regiment and diet or maybe I just need more experience? Either way this show motivated me to want more! My goal is to be the number one welterweight at the next Musclemania!
My next competition will be next year's Musclemania Atlantic and my hunger is still fed by my desire to win!