Toneka Pires
ACHIEVEMENTS:
2003 Fitness Atlantic Pageant 3rd Place
2003 Ms. Bikini Atlantic 1st Place Overall
2003 Ms. Bikini Nations Capitol 1st Place Tall Class
2003 Ms. Bikini New England 3rd Place
2003 Ms. Bikini America Nationals 7th Place
2004 Ms. Bikini New York 1st Place Overall
2004 Fitness America New York 1st Place
WHERE TO BEGIN…….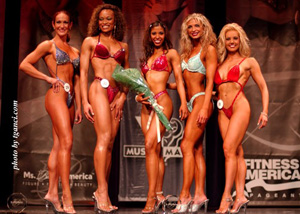 WOW…what a journey this has been. I remember first meeting Cathy Savage and Linda McLaughlin almost 4 years ago, when I could do absolutely nothing! I could not perform one strength move, I had poor flexibility and very little coordination. Now here we are in 2004 and with some serious hard work, sacrifice, dedication and a kick in the bum from Cathy Savage, I have turned the negatives into positives with my fitness development.

Fitness competitions have always been a dream of mine and to be quiet honest, with no gymnastics and no dance background, I would have never thought in a million years that I would ever be able to fulfill that dream of competing. The women in this fitness industry are absolutely incredible, how would I ever compare?? Fortunately for me, I will stop at nothing to fulfill my every goal or make my every dream come true! Someone once said to me: " You could never do it". WHAT!! That comment stuck with me everyday..I took that negative comment and turned it around into the fuel that fed my fire. I will never let a challenge stop me from doing anything!
LIFE CHANGING ORDEAL
August 3, 2002, changed my life forever! I was involved in a severe motor vehicle accident, in which I was out of commission for several months. With LOTS of therapy and hard work I was slowly on my way to recovery. Nothing came easy, every single thing was a challenge, which required me to work 5 times as hard. With lots of therapy, focus and determination, I was able to bounce back even stronger!
I owe my success to Cathy Savage and Brian McDonough for whipping my butt into high gear! THANKS!!
SUPPORT IS HUGE!!
Remember who your family and friends are because boy I'll tell ya, when you have a full plate that consists of a full time job, school full time, dieting and training for a show…times can get pretty tough! My friends and family are there to keep me grounded and to remind me on a daily basis of what I have worked so hard to achieve!! Thanks!! I love you all for that!
WORDS OF ENCOURAGMENT:
"Stop at nothing to achieve a goal or dream! Your life is what you make it! Enjoy it every step of the way!"
Toneka Pires 2003
Toneka Pires Pics
Return to the Fitness Competitor Section