Male Bodybuilder - Robert Ventulett
Nick-Name: Rob
Age: 20
Birth Date: 12/02/1985
Birth Place: Stratford, CT
Current Residence:
Agawam, MA/Springfield College
Height & Weight: 5'9and1/2"
Contest weight: 154 Off-Season: 170-180
I first decided to do a bodybuilding show when one of my best friends and training partner, Vinny, did a show. As soon as I saw it, I wanted to do one. My first competition was the INBF Natural NYC on July 27, 2005. I entered the teen class and placed 1st and tied for 4th in the novice men's class (placed at 5th, but tied for 4th).
I have been the biggest Arnold Schwarzenegger fan since I can remember, and he influenced me heavily. Local bodybuilders like Luke Malone, Vinny Tortoriello, and Steve Suschana also influenced me. Meeting Jay Cutler, Victor Martinez, and Darrem Charles was also a very inspirational time for me.
I have competed in the INBF Natural NYC on July 27, 2005 in the teen (1st place) and novice men's class (tied for 4th place, placed at 5th), the Fitness Atlantic Musclemania 2006 on May 6th, 2006 in the Junior class (5th place), and the INBF New England Classic on May 14, 2006 in the Novice Men's Lightweight (2nd place.) I plan on competing again in the Fitness Atlantic Muscle Mania and INBF NE Classic in 2007.
Vinny Tortoriello is my training partner, and Luke Malone helps me with my diet.
I work out at Gold's Gym, West Springfield, MA
I only use protein powder; I get everything else from natural sources in my diet. I do use Muscle Milk, and love it.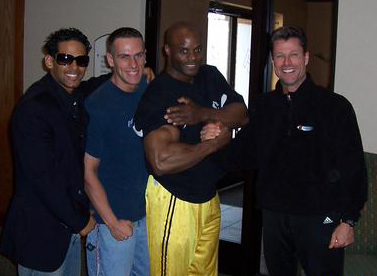 I have a very strict diet year round, just ask everyone who lives with me/ goes to school with me!
I am a personal trainer at Century Fitness, East Longmeadow, MA.
I am going to Springfield College, going for my bachelor's in Applied Exercise Science, a minor in Nutrition, and a Doctorate in Physical Therapy.
Thanks to Vinny Tortoriello for being there for me since the beginning and pushing me every step of the way. Thanks to Luke Malone for helping me with my diet and posing.
Return the Male Bodybuilders Page