Built to Last - Bodybuilder Pete Saccone
Itís hard to believe Peter Saccone Jr. is a half a century old. Just look at him. He has accomplished what is generally unheard of in the world of bodybuilding. At age 47 he came back after a nine-year layoff to finish second in April at Musclemania Atlantic 2000, a major East Coast bodybuilding event in New Haven. Saccone, a mechanic for the past 14 years, also won the masterís competition (ages 40 and over). The show sold out and attracted 100 competitors, including 14 in the masterís category.
"That was pretty exciting," said Saccone during a recent workout at his regular training place. "I guess alot of people hadnít heard of me, and I surprised them. I know now I can do pretty well in masterís contests." Maybe not alot of his competition knew that Saccone achieved national recognition 12 years ago in this competition that takes arduous training with the goal of looking like a classic sculpted statue. It was in 1988 that Saccone won the ANBC USA title. He got to be known as "Mr. Clean" for his shaved head look as well as the fact he avoided drugs. It was a year ago while keeping up his five-day a week training that he was encouraged to make a comeback.
Fred Yale, a national bodybuilding judge for 20 years, was one of the judges at the event. He remembers the worried look on Sacconeís face when the judges motioned him to the side of the stage to get a better look at poses of the other competitors in the masterís class. "We knew he was first right away," Yale said. "We just wanted a better idea who was second."
"The condition he was in was phenomenal," Yale said. "For him, his body had nothing to do with age. The fact he had not been training for competition for nine years made it harder for him to decide what to do to comeback. His experience probably helped him, but he had to take an educated guess on the right kind of diet and weight training. What he did worked. He was smart to take someone elseís advice and not work alone. A good competitor will not train without someone elseís advice."
"I steered clear of steroids, " Saccone said, noting he only competes in drug-free contests. "Theyíre just not healthy."
"Iím back, and I do it the hard way." "I donít use drugs. I just train and Iím careful about my diet. Through hard work and dedication, it can be done to be the best you can be."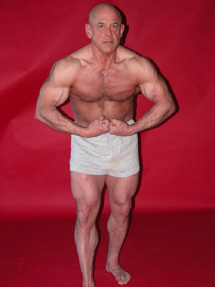 Peter Saccone Off-Season Photo Gallery
Peter Saccone Video
Return to the Male Bodybuilders Section