Fitness Competitor Micolene "Mickie" Boddie
Attitude is Everything
"Fitness is my outlet, my stress reliever, and my balance. In this crazy, hectic, 'need it yesterday' world, fitness guides me to focus all my positive energy in achieving my goals. In striving to accomplish my goals, I also hope I am a positive influence on others in attaining their own goals. My infinite passion for fitness is a large part of the lifestyle I chose to lead, and the positive lifestyle I hope I can influence others with. You have to want it...so go get it!" - Mickie
Micolene Boddie grew up in Hanover, Massachusetts. Her love for gymnastics began at age three when she bounced around the house so much her mother enrolled her in gymnastics classes. She became competitive and by her sophomore year of high school discovered that the growing pain in her right wrist that she so willingly tried to ignore for the past three years was a stress fracture in need of surgery, and her stubbornly and repetitively swollen right ankle of 8 months also had an avulsion fracture which needed surgery. With her recovery and return to competition, by her senior year of high school she had added difficulty in all her routines and this was 'her' meet at the State Championships, unbeknownst to her, it was her last meet. The "pop" heard during the silence of the second event round was the rupture of her ACL. She was to endure further physical therapy but her perseverance prevailed.
She graduated in 2000 with her Bachelor of Science in Athletic Training from Springfield College. She worked as the head athletic trainer at a high school while also working full time in a physical therapy clinic. One year of working under the therapists as an athletic trainer gave Micolene the incentive to return to graduate school to earn her Master's in Physical Therapy.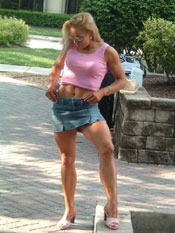 As a freshman in college, she had witnessed a Fitness America Pageant on ESPN that completely inspired her; it was the Fitness American Nationals in California. She then set a goal to compete in a show before her 26th birthday. Micolene began training in July of 2003. She went to Cathy Savage's fitness camp in August of that summer and met Cathy who couldn't have been more enthusiastic about each competitor's goals and incredibly creative with each individual's ability level for their fitness routines. Mickie qualified for Nationals in her first competition on her 26th birthday in Boston, October 11th, 2003 at the Fitness New England Pageant.

While she was finishing up the second year of her Master's program at URI, studying for finals and working 2 jobs, Micolene was training for the Fitness America Pittsburgh, (Kumite Classic) May 27th, 2005 where she placed third. Then the next weekend she flew out to the Midwest Championships in Chicago on June 5th, 2005 where she also placed third. She plans to continue competing and fly out to California for the 2005 Fitness America Nationals.

She has earned her credential as a Certified Strength and Conditioning Specialist, (CSCS) and presently, works a personal trainer in Newport, Rhode Island. She is anxiously waiting to finish up her Master's degree and start working as a licensed physical therapist. Her ultimate goal is to work with competitive athletes leading them on their way to regain a stronger, faster, and more athletic status than before their injuries occurred.

Competition has given Micolene motivation for a healthy lifestyle and has met life long friends with the same goals and interests. Fitness keeps her on track with her healthy eating and exercise routines. She says, "There is no such thing as a 'diet'. Your diet is everything you consume. Eat whole foods from the earth and try to cut down with the goal of eliminating processed and pre-packaged foods…Everything in moderation." She lives by the quote of "Attitude is Everything" it impacts us with everything we do, think about it…

Mickie Boddie Slide Show - 19 Pics!