Bikini & Fitness Competitor Kia McKay
Birth Place: Philadelphia
Current Residence: Florida
Why did you start competing or plan to do so?
I started competing because I've always wanted to be in pageants but figured I didn't look the part. By senior year of college, I was 196lbs and I definitely wasn't pageant material. For health reasons, I decided to do something about my poor eating habits. I watch a lot of ESPN because I love sports and a few time caught a few fitness pageants on there. I noticed that the competitors were various ages and races and that if I got myself in shape, I could finally make a childhood dream come true!
What or who inspired you?
I've always been a big fan of Arnold Schwarzenegger. The story of his discipline, dedication, and persistence to reach has been and still is inspiring to me. As a matter of fact, I started studying bodybuilding long before I got into fitness and figure.
The shows you have done or plan to do?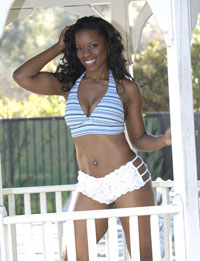 Since my first show in June 2004, I've competed in Bikini and Model America (November 2004); Bikini Atlantic (5th place medium class, 2005), Bikini and Model Florida (3rd place, 2005); and Bikini and Model Universe (2006). I did my first fitness competition at Fitness NY in August of 2006. With no dance, cheerleading, or gymnastics background it was tough training. But I finally stepped on stage with a routine just as I had seen on ESPN almost 10 years ago!
Who helped you get started?
When I decided to work toward competing, I did everything myself. I did months, maybe years of research about weight training, nutrition, and competition. I emailed many competitors and trainers, all of whom responded with helpful and informative information. After losing about 50lbs on my own, I finally competed at Bikini Universe in 2004. Despite all the research, there was a lot I didn't know leading up to that first show and I have the pictures to prove it! I was second to last place out of 37 competitors. I was very discouraged but shortly after stepping off stage at that event, I met Cathy Savage, someone I had actually emailed a few times asking for tips. She invited me her competition camp that was taking place a month later. The information I learned there transformed my view of the competition world and I have been hooked ever since.
Who helps you now?
I have a dream team of nutritionists and trainers, and I often refer to industry magazines like Oxygen and Muscle & Fitness.
What results have you achieved?
So far, I've lost about 60lbs and dropped from a size 16 to a size 4. Turning 30 has come and gone, but I can honestly say that I am in the best shape of my life.
How has fitness changed your life?
Being a fitness/figure competitor, I feel like I am part of an elite society. Many people have the desire to make major changes in their life, but few take the steps to do it. The men and women I've met only prove to me that the best is yet to come if I stay persistent with my training and new healthy lifestyle. No longer do I dread birthdays or buying a new pair of jeans. I feel confident in my appearance and my personal motivation and discipline in all areas of life have improved dramatically.
What are your fitness goals?
I plan to compete as long as my body can push weights. A few first place trophies would be icing on the cake!
What is your occupation?
I am a makeup artist specializing in airbrush makeup and airbrush tanning. I've launched my own freelance business and plan to open a beauty studio in the next few years. I also work as a promotional model. Being a fitness competitor not only improved my appearance, it also boosted my confidence and my more outgoing personality emerged.
What are some other goals in your life?
In addition to my makeup studio, I hope to find success as a fitness model and competition coach.
Other sports you have participated in?
Despite my will and desire, I was never very good at sports. I've tried out for everything from tennis and cheerleading, to track and volleyball. I wound up in the marching band. When I am not in the gym, I spend my time developing new makeup looks and I also make jewelry.
Fitness Competitor Kia McKay Photos
More Fitness Atlantic Fitness Competitors