Male Fitness Model Jeremy Scott Williamson
Full name: Jeremy Scott Williamson
Nick-Name: Jmiah
E-Mail: jeremy at jmiahonline.com
Age: 30
Birth Date: 6 APR 1976
Birth Place: Fort Gordon, GA
Current Residence: Augusta, GA
Height & Weight: 5'10" & 180lbs
1. Why did you start competing or plan to do so?
I started competing when i got selected as one of the top 16 male finalist for HardBody Entertainments World's Fittest Model Search at Olympia Sept 30th, 2006. Where Eric Carlson and Jamie Eason won top male and female. I then competed and placed 6th at FitnessHollywood's Model America... I enjoy doing it, love meeting new people, and love to have fun on stage with my peers.
2. What or who inspired you?
The people who have been successful and believe in me are my inspiration. Good friends such as Zac and Lana Titus, Eric Carlson, Jamie Eason, Josephine Dalton, Priscilla Tuft, and many more... great people and i love working with them too!
3. The shows you have done or plan to do?
In 2006, i did World's Fittest Model Search and Fitness Hollywood Model America. I plan on doing as many as I can in 2007.
4. Who helped you get started?
My trainer and IFBB Fitness Pro, Stacy Wig and an internal desire of just taking a chance at an audition in July with HardBody Entertainment.
5. Who helps you now?
All my friends and peers in the industry... it pays to have good friends! I help them with graphic design and marketing consultation and they help me.. i just love helpin people! lol
6. Where do you work out?
I work out at The Omni Health Club of Evans, GA and the Family YMCA of Augusta, GA.
7. What supplements and vitamins do you use?
Multivitamins, fish oils, amino acids, protein bars and shakes... mostly low carb things due to me being a Diabetic.
8. What results have you achieved?
I started out weighing 200lbs and a 34" in the waist. Now Im 180lbs and a 32" in the waist. Im a diabetic and because of my diet now, Im able to maintain and control my blood sugar levels at all times... and that helps reduce bodyfat. I also am a fitness trainer and help man obese people acheive phenominal results.. and a motivational speaker to young people... being an inspiration that ANYONE can be fit if they want!
9. How has fitness changed your life?
I've been diabetic since i was 13yrs old and was an athlete growing up... it's been a part of my life... but seriously in the past year I have seen the MOST results, because of hard work and determination to pay the price to reach the goals i want!
10. What are your fitness goals?
I've been in two shows and have been placed pretty high for being a new competitor... All my peers are shocked in how fast I've growin in the modelin industry and Im just grateful for friends believing in me. They tell me I can really make it to the top... and it's turned something on inside of me.. and i have a drive to WIN!! But it's more than that... i want to use my influence in being a WINNER to this younger generation... that's my heart. i want to work hard in my life so I can be an inspiration to others... to show the average person they can reach ANY GOAL they desire... if they are passionate about doing what it takes. I want to help PEOPLE! I would REALLY like to be a spokes model for the American Diabetes Association and the Juvenile Diabetes Research Foundation. it's all about investing into our generation to better mankind. :)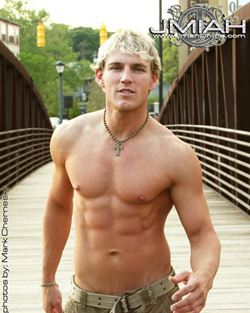 11. What is your diet like?(meals you eat now, snacks, times)?
my diet it pretty much a normal lifestyle of moderation with several sacrificial seasons to get lean as possible... to be lean, eat lean and clean! But the guidelines i tell people in brief is... low sodium, sugars, and saturated fats... drink plenty of water! without going into meal plans, thats basically it! We just gotta learn how to read labels!! MY FAVORITE CHEAT MEAL?! It's more like a CHEAT DAY!! ha ha And in that day i like to have AS MUCH AS I CAN CONSUME!!! I gotta gain weight, but lean down.. so right now I can afford that!! :)
12. Your workout schedule?
Right now Im lifting heavy to put on as much mass as possible and low intensity cardio daily. I went through a season of doing too much high intensity cardio with low carb diet... and i paid for it... lost muscle mass. But it's ok, i learned from it and now Im on the road to getting it back! my body will do what i make it do!! It's all in paying the price!
13. What is your occupation?
I actually do several things. I own and operate a a graphic design and marketing consulting business... and my main market is this industry. I have a gift of making people go into the next level in their careers, by giving them a professional look on all their promo material! I do it for all kinds of small business owners too! I love to use my gifts and talents to help someone else achieve success.. that's such gratification! I also have been a certified personal fitness trainer since 2001... and have enjoyed doing it more this year than I ever have before! With my success in everything this year, it's just open doors to help people in fitness/nutrition... and being diabetic on top of that intrigues people! In addition to those things, Im also a motivational speaker... I LOOOOVE to inspire people to do something with their lives!! I love to make people laugh, and I just flat out love PEOPLE!! Two rules i live by... Love GOD, Love Peopl!! that's it, that simple! And last, but not least... I model... it's such a passion in me to be all I can be... but the reward is the influence you have with young people... and it's a heavy responsibility too! But totally worth it.. life is all about investing into others... leaving your mark in this world!
14. What are some other goals in your life?
My goals in life are always changing, because I keep pushing hard to reach them. I set a goal that is kinda far out there, but attainable. It just takes some stretching... getting out of your comfort zone, work hard and pursue. As I do... i reach that goal. When i reach it, i make NEW goals!! I have long term goals and short term goals. This year is to hit the mainstream market like crazy! I wanna get more into TV so i can express my personality more and have fun with people! One long term goal is to host the mtv movie awards... and OOOo I would sooo love to host the Kids Choice Awards one day!! One of my short term goals right now is to be in and on as many magazine covers as possible for 2007! I wanna take this body God has so graciously blessed me with and ENCOURAGE and INSPIRE as many as possible to lift up their eyes and reach for their dreams!! life is too short to sit around and do nothing!!
15. Other sports you have participated in?
I really enjoyed playing football and soccer in high school and college. It was somuch fun... my senior year I made the mistake of smoking dope for like a month straight and that stuff makes you not care about life.. so I quit my starting position on the football team. I got my life together by spring and resorted to my other love of sports soccer. I knew it was all i had left to play in high school, so I gave it my all!! Then i went to college and played some too! i wanted to have the dream of playing in the world cup, but my heart started pulling me in a different direction of life! so glad it did too!! But now... any type of fitness is my sport!! I love doing a multitude of things that can get my heart rate up and keep it up for about 30-45 minutes per day! ha ha keeps cardio FUN!!!
16. Family (any children), friends, thank you's?
I have a lovely wife and a 9yr old daughter! I love and appreciate them standing behind me in everything... and my friends... well i have friends all over the world, but i love them all sooo very much!! I choose my close friends very carefully, because Im not into drama... so the ones I have know they are special to me... like brothers and sisters.. because that's how it should be!! I wanna thank EVERYONE who has encouraged me... stood behind me.. and helped me pursue these dreams of mine.. I will never ever forget it. I know you cant do it all on your own, we must all support each other and help each other... because we all have different strengths and weaknesses... so if Im strong in something youre weak in, let me help you and vice versa!
17. Hobbies?
I have to honestly say my hobby is meeting people and having fun in public places.. ha ha i love to have fun! ya know?! I do like to sit down from time to time and play video games!! so much fun! I like star wars... and Im such a nerd at it too!! I like to read books to better myself... i like to watch CSI, Grey's Anatomy, Boston Legal, King of Queens, Desperate Housewives, According to Jim, Sienfield, Friends, and several more shows.. haha i dont get to watch much tv so it is a hobby! ha ha
18. Life challenges?
If i have an excuse to not exercise its this... if i dont do it early enough in the day, i will procrastinate it and end up not doing it! It has to be first or second place in my life! I totally like to sleep.. ha ha and i dont like gettin up too early unless there is something really important then sleep is on the backburner and i dont care! If I have to be casted in a movie and need to get up early to work.. then ill sleep later! ha ha life is all about choices and priororities! But the ultimate challenge is just making your body do what it naturally doesnt want to do... WORK! let's face it... in fitness... we have make ourselves do it... even though we love it so much, we still have to crucify this nasty lazy flesh to reach our goals!
19. Obstacles you have overcome?
I was diagnosed as a Diabetic when i was 13 yrs old. I was told that I couldn't do a lot of things and I wouldnt be able to do a lot of things... but when someone tells me i cant do it, i will do it just to prove i can! Many people in America have used diabetes as an excuse to be lazy, and it's sooo not right!! If I can balance and maintain stablized blood sugars with diet and exercise and right insulin injections, i can do anything! Diabetes is running rampart in the USA and it's time to educate people and motivate people to get up and beat the odds!! I DID, and I can do it... ANYONE can do it!!! HOW BAD DO YOU WANT IT!!
20. Anything else?
My favorites! College Football team: Auburn Tigers Olympia Winner: Lee Haney.. such a cool guy Movie: Star Wars, Walking Tall, Dumb and Dumber, Mulan, and many more Books: John C. Maxwell Leadership books ROCK! Music: I totally dig hip hop, rock and all kinds... but love the Christian Hiphop groups, GRITS, KJ52, and Toby Mac TV Shows: All CSI shows, Greys Anatomy, Boston Legal, According to Jim, Pimp My Ride, Yo MOMMA, Without A Trace VACATION: I totally enjoy going on cruises... it's like really seriously getting away from life... no cell phones or internet! ha ha Man that's hard for me too! Things I like: I like to work out, do graphic design in PhotoshopCS2, playing xbox, laughing an hanging out with people, I like compliments from people who rock, cheeseburgers, driving fast while listening to bangin music to bump the subs, I like pizza, making people smile, I like to make money, but I like to take an underdog with a vision and help them become the cream of the crop... ya see there's a lot of things I like, but only ONE THING I LOVE.. and that's JESUS CHRIST!! :)