Female Bodybuilder Jean Jitomir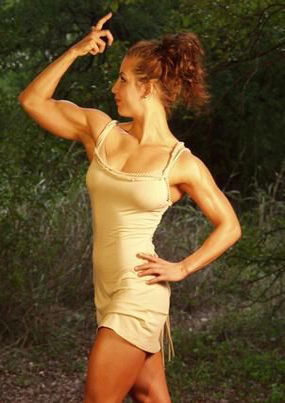 Age: 24
Birth Date: February 13, 1982
Birth Place: Queens, New York
Current Residence: Waco, TX
Height & Weight: 5'-2" 125 off-season, 114 in-season
I competed in power lifting originally, but injured my shoulder. I decided to start in bodybuilding because one of my best friends was a bodybuilder and I received encouragement from her and others in the gym.
Just the desire to have fun with training and actually see of all that great muscle I was building.
I have won the overall title in the Tri-State National Qualifier in 2005. I competed in several figure shows in 2006, including the Figure Nationals. I'm a self-starter, but thanks to Ron Chew, who taught me how to pose.
I train with one of my fellow PhD students, who have experience in both bodybuilding and Olympic lifting. I work out at Gold's Gym, Waco, TX
I am a supplement minimalist, as I was taught in dietitian school; however, I have been won over by a few. I use whey after my work-outs, BCAAs before and after, creatine before and after, 1000mg calcium, and a flinstone multi.
I have done 30 pull-ups in a row, benched 160 unequipped, won a bodybuilding national qualifying show, and run a 6:30 mile. And I feel awesome, thanks for asking :)
Bodybuilding has changed my life totally, I was about 150lb and not in shape when I first started going the gym, and so a life of fitness and healthy eating has really improved everything from my self-confidence to my energy levels.
I hope to compete successfully in bodybuilding and continue to balance out my physique over time. I am also working on a PhD in Exercise Nutrition at Baylor University
I eat about 7 times a day all year long. My contest diet and off-season diet are not all that different. Morning- oatmeal with berries and eggs with low-fat cheese Mid-morn- cup of cottage cheese with sweet potato or berries Lunch- Huge salad or sugar snap peas with beef or chicken and a piece of fruit Snack- peanuts and apple Dinner- more veggies, meat, and a piece of fruit Snack- more cottage cheese and fruit As you can see, the diet is mostly lean meat, lean diary, fruit, and veggies, with some healthy fats and whole grains. I love going to diary queen after my workouts I do this 2-3 times a week. I just get a small or medium vanilla cone- the cone is so crunchy! I love it!
I never do the same thing twice. Right now I am including more stability ball movements and splitting up my workouts as front of the body/back of the body type concept. So this means quads/chest/tri on one day and back/calves/hamstrings/biceps on another day, with shoulders/more arm work getting a separate day. In the off season I do 3-4 cardio bouts a week and its pretty easy stuff, 25-30 minutes of light running or elliptical For competition, I'll to up to a hour and 15 minutes a day, with more intervals and intense training.
I'm a Register Dietitian and I have a Master of Science in Nutrition- I'm currently working on my PhD in Exercise, Nutrition, and Preventive Health and Baylor University. Its super cool because we do a lot of testing on ergogenic aids- we did some of the first creatine and BCAA testing. Our lab has also done a great deal of testing for EAS, GNC, Javafit, and other supplement companies.
I want to enjoy myself and have a positive impact on health in this country. My research interests are in the area of optimizing diet and supplementation for patients' with Type 2 diabetes and metabolic syndrome.
In high school, I did cross country and track. In college I participated in drunken frat house dancing for two years before I finally came to power lifting and bodybuilding
I am a single lady at this point in time, but I have much love for my sisters (all four of them) and all my parents (family pretzel, don't ask)
I love cooking- I worked as a cooking instructor at one point, which was great- I have subscriptions to, like, nearly every cooking magazine. I also play the piano, sing, paint, and write- I grew up without TV, so I had to find something to do!
I am so blessed- my life is really great right now. I could piss and moan about the little things, but I don't feel like it.
I was not athletic until 15, so overcoming the "not athletic" stigma was a challenge- it took a long time to not see myself as the girl getting pelted by speeding dodge balls in gym class.
Return to the Female Bodybuilders Page