Male Bodybuilder - Carl Jefferson
TAKE IT TO THE LIMIT
"GO TO A PLACE WHERE YOU'VE NEVER GONE BEFORE!"
Carl D. Jefferson
Height: 5'9''
Weight: 150 (contest)
175 (Off Season)
Contest History:
2006 USBF Northeastern Natural Bodybuilding Championship-6th place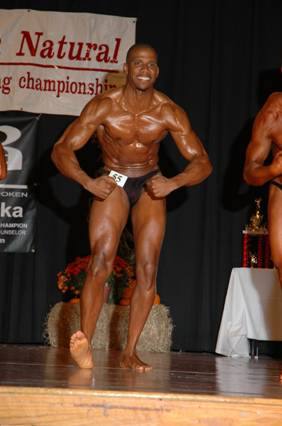 What up Fitness world?
My name is Carl Jefferson a.k.a. "Cowboy" I feel inspired to share my story with you. I hope that my story and journey will inspire you to be all that you desire to be and fulfill all the dreams you have in life.
I hold a plethora of titles I am a Pastor, Personal Trainer, and Body Builder. I train and work at Bally's Total Fitness in N. Providence R.I. I am presently launching various projects that will focus on building what I call "The Temple". For our bodies are "temples". I aspire to be a trainer who trains holistically (Body, Mind, and Spirit). My desire is to see the whole person be healthy and strong in order that it might fulfill its purpose on earth. My future goals are to be featured in printed media, television, modeling, teaching and promotions.
I was born and raised in the "hood" of Boston, Ma. I started lifting on a regular basis when I turned 28, and realized that my metabolism had slowed down and I wasn't burning fat as quick. I would have never realized that hitting the gym 6 years ago was preparing me for something AWESOME.
As I pursued my workout regiment it took me beyond the limits of reason, my boy who I trained with helped me to realize that whatever we want to achieve in life, we must be willing to go beyond our comfort zone. With that being said, my desire to be a body builder has taught me much about discipline, persistence, perseverance, endurance, and success.
As a result, I have gained a greater appreciation of being a good steward over "The Temple" that God has blessed me with. I have come to realize all the more that God who created "The Temple", is not only concerned about the spiritual being, but also about our mental and physical well being. This experience has taught me that "balance" is the key to life; I came to realize that if you are looking for a certain result, than you must be willing to go through a strict process to obtain that result. I went through a 10 month process that at times felt like punishment, however I learned that whatever is worth getting, it is worth going through the process. This 10 month process caused me to see how essential prayer, good nutritional habits, exercise, and discipline can bring some extraordinary results.
My regimen consisted of training 6 days a week, whereby my goal was to present to God the best sculpted body that it could be. In my last two weeks before the contest I increased my cardio to 2 hrs a day, and I didn't have any carbs during the week of my competition. My measurements dropped tremendously and my body fat % was at 4.8% (yeah). I lose 24 pounds within 4 months of my competition and I trained a little over 10 months in order to qualify for the competition.
Although I did not place among the top five within the competition, I had considered myself already a winner. I had won because I had accomplished what I intended to do and that was to be in the best shape in order to compete and to learn all the posing routines in order to place for my next competition. I am blessed and proud to say that I came in 6th in both divisions that I competed in. However, from this experience I am more determined and focused now, more than ever. My area of concentration for the next several months will be on my legs, delts, and lats.
From the competition, I have learned that it is not so much about getting, as much as it is about giving. My desire is to give people inspiration and motivation to excel in whatever they put their heart and mind to.
I also have learned that whatever you respect will attract to you, and God has brought many supporters my way. Without the support and help of my wife, Tamica (my chef), Sean (my big brother- mentor), Joe, Ron, Pete, Hawk, Evan ( my trainers), Leroix (my music producer), Candida (my choreographer), Rufus (my photographer) Ballys (my gym), and others none of this would be possible.
I believe that balance is the key to life and discipline is essential to anything that you put your mind to. Through hard training, proper diet, and nutritional supplements (yeah), dedication, prayer, and support all things are possible.
I want to be an inspiration, model, and coach that will motivate and inspire others to reach their goals in life. To date I am launching "Life Change Body Solutions" that will focus on nutrition, exercise, motivation, and fitness training. Along with this, my ultimate goal in bodybuilding is to be one of the greatest body sculptors in the world. And be a model for young men, and others to see that we have been given a great responsibility to care and be a good steward over the "Temple" that God has given us.
My short-term goal is to compete in the upcoming Fitness Atlantic competition and the USBF Bodybuilding Competition in April 2007. Hope to see you there!
Peace,
Cowboy Carl
Return the Male Bodybuilders Page