Male Bodybuilder - Trevor J Walker
Age: 31
Birth Date: 10-31-75
Current Residence:
Jacksonville, FL
Height & Weight: 5'10 & 150
Why did you start competing or plan to do so?
I have always been interested in bodybuilding and people would always complement me at the gym about my physique.
What or who inspired you?
I inspire myself. I also like Dexter Jackson and Arnold.
The shows you have done or plan to do?
I've competed as a Lightweight in the Allstar Classic - 1st Place (Jax, Fl), 2 - Ancient City - 1st/2nd (St. Augustine, Fl), Mid Florida Classic - 1st (Orlando, Fl). As a Middleweight in Hurricane Bay - 3rd (Tampa, Fl)
Who helped you get started?
My work out partner Eddie helped me get into competing. He has competed as a Heavy and Super Heavy Weight.
Who helps you now?
I've been lying low, but I want to get back on stage.
Where do you work out? (Gym name, home?)
I was a member of World Gym in Jacksonville for over 4 years. Now I'm with a small gym close to home called The Athlete's Choice also in Jacksonville, Florida.
What supplements and vitamins do you use?
I like Myoplex Deluxe Protein, Designer, Pure Protein, and RTDs. I actually don't consume any thing besides protein after a workout. I also take GNC Mega Men Sport multivitamins.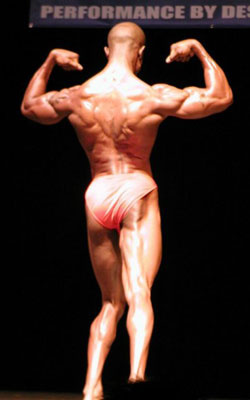 What results have you achieved?

My most recent achievement is getting back on a good workout routine, which will eventually result in me getting back on stage.

How has fitness changed your life?

Fitness is my stress reliever and my escape. I don't think I would be the same if I could not workout.

What are your fitness goals?

I would like to gain about 10 pounds overall. In my peak conditioning at 155 I've been told I look like I was about 175. So, if I can maintain 160-165 I'll be able to compete as a solid middleweight.

What is your diet like?

I don't do a lot of dieting because I am naturally thin. I try to get a lot of chicken, rice, noodles, and bread. I like snacking on peanuts, pecans, apples, protein bars, pretzels, rice cakes, and peanut butter and jelly.

Your workout schedule?

I like to start the week off with chest, biceps, and calves. Then move to back, shoulders, and triceps. I like to get legs in the middle of the week. I tend to finish off the week with abs, calves, and some high rep arms. I also do push-ups during the week.

What is your occupation?

I'm currently a IT Equipment Purchasing Agent. I'm also an Executive Administrator in the Naval Reserve.

What are some other goals in your life?

My current goal is finishing up my Bachelor Degree this year. I graduate in December 2006.

I am married to a wonderful wife who has just opened her own business (a Hair Salon). We have two wonderful boys; ones 15 and the other will be two in March 2007. They keep me busy. My best friends are Sedric Cherry, Desmond Davis, and Thomas Jones.

Hobbies?

Outside of family, work, and fitness there is not a lot of time left. I do like doing project around the house.

Life challenges?

My current life challenge is getting in the gym consistently. Of course eating habits would be another. I would also say balancing work (including the reserves) and family around trying to work out is a challenge in its self.

Obstacles you have overcome?

I overcame a muscle tear and dislocated shoulder and my right peak has never been the same.








Return the Male Bodybuilders Page