Bodybuilder Bill Willoughby
A Police Officer By Day And Bodybuilder By Night
Bill Willoughby, 53, of Waterford.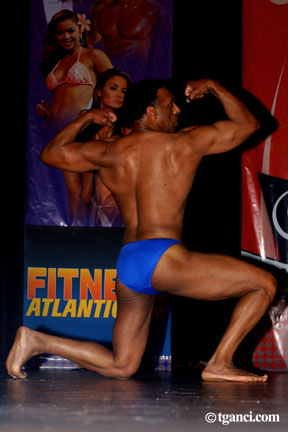 Why you should know him: Willoughby, who has been lifting weights since he was 13, has been competing in bodybuilding contests for years. In April he placed third in the grandmaster division (50 and older) of the MuscleMania competition held in New Haven. In May he took third in the Rhode Island Natural Bodybuilding Championship. His basement home gym is lined with trophies and plaques chronicling his success over the years.
Bill Willoughby, a 53-year-old bodybuilder and a police officer for Whiting Forensic Institute, works out four times a week in the gym in the basement of his Waterford home. Willoughby has been bodybuidling since he was a teenager and plans to continue through his senior years.
Give us the numbers: When he's not competing, the 5-foot, 10-inch Willoughby weighs between 195 and 200 pounds. When he is in training to compete, he drops to 175. His waist ranges from 34 to 31 inches. He wears a 48 suit jacket. His best bench press was 350 pounds, his best squat was six repetitions of 365 pounds, and his best dead lift was 535 pounds. Those were all achieved 20 years ago.
Older, yes. Easier, no: It gets much harder to stay in shape the older he gets, Willoughby says. The dieting for competition is particularly difficult, he says, because when he gets serious, he eliminates nearly all the fat from his diet. Bodybuilders don't want any fat to get in the way of their muscle. "Every year it is harder and harder to diet," Willoughby says. "It takes so much out of me. I like sweets too much."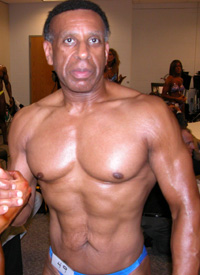 Retire? Never: Willoughby says he will lift weights for the rest of his life, and he hopes to compete for many more years. "I competed against two guys in New York City (a few years ago). One guy was 73 and the other guy was 76. They looked good."

A full-time job: Year-round, Willoughby does weight training (primarily free weights) four times a week. When he starts his training for competitions - usually about four months before the competition - he will train five or six days a week. He doesn't do much cardio exercise because he is trying to build body mass, not reduce it.

His other full-time job: Willoughby served in the U.S. Air Force for five years as a communications specialist, stationed in Germany. Today he is a police officer at Whiting Forensic Institute, the state's maximum security prison for the criminally insane.

He's a jock: Willoughby grew up in Waterford, and his varsity letters from Waterford High School (Class of '69) hang on the wall of his gym. He played left offensive tackle on the WHS team that won the school's first ECC title in 1969. He also did shot put and played saxophone in the school band. He started lifting weights in junior high with a friend to get ready for football, and he never stopped. It was at Hiram Scott College in Nebraska that he began competing.

Muscles of the gods: "I always liked the Hercules movies and Greek mythology," Willoughby says. "I just like to be strong. I have a love-hate relationship with the diet, but I like how I look. It makes me feel good."

He's all natural: Willoughby says he does not use steroids, although he admits it is widespread throughout his sport and many others. He does use natural bodybuilding supplements purchased at GNC. "I can get better without them," he says of steroids.

Family matters: Wife Lolita and children Vanessa, 14, and Wesley, 6. "I told my wife when I met her, I compete once or twice a year, I work out three to four hours a day. That's what you're marrying and I'm not going to stop."